Autumn has arrived, time for an update. Crisp autumn days have replaced the summer, some frost has even turned up. Nice and warm in the greenhouse, today over 25 degrees.
The roof of the garage is almost finished, now we need the panelling to continue.
We've done some colour tests for the panelling on the house and garage, with unconclusive results. More tests needed but we'll probably use an oil based stain.
Log walls continue to grow slowly, we're up to level 29 in some places, 34 is the final layer. Not so many logs left!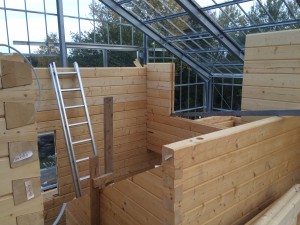 Staircase and opening to downstairs.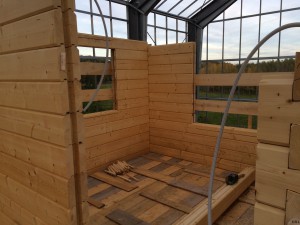 Lova's room on the second floor. I've put some boards across the windows to increase safety a bit.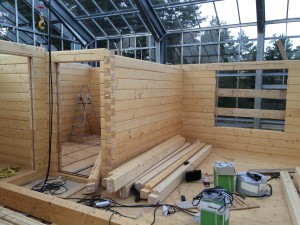 Living room on the second floor and Saga's room. The door to the bathroom to the left.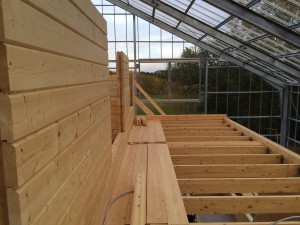 The second floor terrace.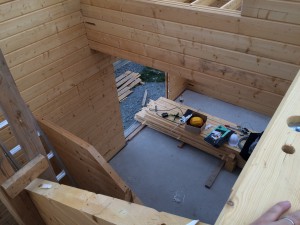 View to the downstairs living room from the top of the stairs.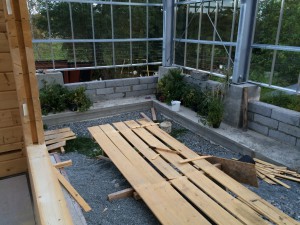 I've continued with the LECA between the greenhouse concrete fundaments.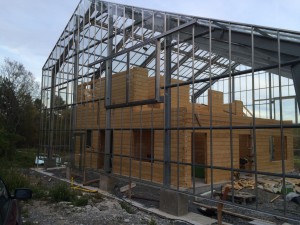 Finally a tour around the house from the outside.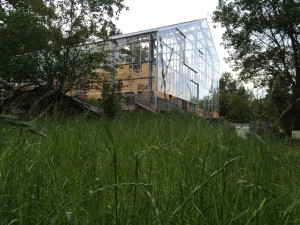 New grass covers up the clay mess left by the excavator.
LECA from the outside.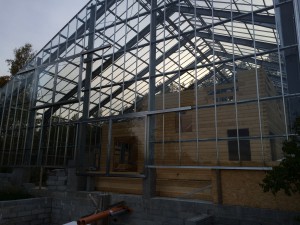 I have to continue the recycling house made of LECA before winter arrives, it was hard work with mortar in January/February like a did this year 🙂 Frost protection, hot water etc. The walls will be almost as high as to the bottom of the greenhouse doors.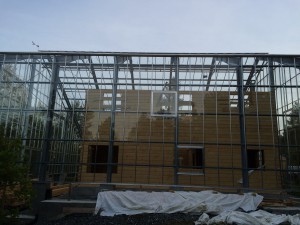 View from the north. The last five logs still laying outside under the tarpulin, need to get them in soon.